Air Spade
May 1, 2015 I 2:22 pm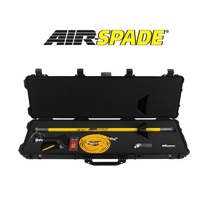 Air excavation has become a preferred method for digging on many jobs ranging from utility work to advanced tree care. Excavating with the AirSpade offers a number of advantages over traditional tools such as picks, shovels, crowbars and backhoes, including:
Two to three times faster than hand excavation.
Less worker fatigue than a pick or shovel.
Eliminates sharp metal edges as featured on picks, digging blades, or buckets.
Harmless to bury solid objects such as utility lines, telecommunication cables, tree roots, hazardous waste containers, or military ordnance.
Excavates some rocky soils where a shovel is difficult to use.
Breaks soil into small particles that are ideal for re-compaction.
Powered by common, tow-behind air compressors.
Utilizing the power of compressed air, the rugged and lightweight AirSpade uncovers underground objects, utility lines, or even sensitive tree roots without harm. Featuring the high performance, patented supersonic nozzle, AirSpade digs faster and more efficiently than competitive tools. Dead-man trigger ensures safe operation. Non-conductive, fiberglass barrel provides degree of protection from buried electrical lines. Compressed air requirements: 25 – 225 cfm @ 90 psi.
When dealing with sensitive pipes and cables that are often punctured or damaged by traditional backhoes, AirSpade offers an easy, fast, and non-damaging way to locate and excavate the area around them. In addition, AirSpade can create new holes or trenches to lay pipe or cable, and can be used in many other industrial and utility applications, including:
Utility locating and repair
Keyholing
Potholing for line location
Crack, joint, and valve box cleaning
Roadwork