FOCUS S COMPACT SWIVELS
June 19, 2017 I 2:19 pm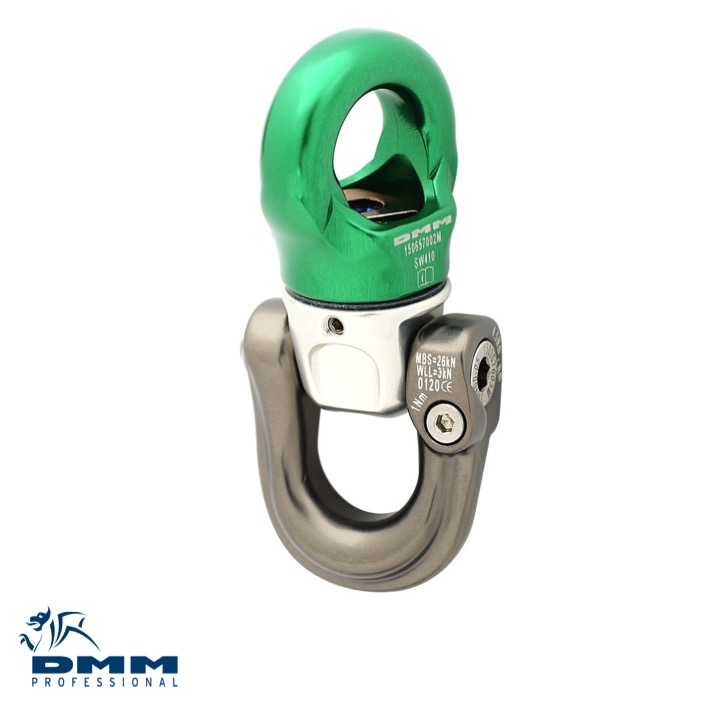 The DMM Focus is a compact, hot-forged swivel designed for use at junctions where torsion needs management. A high-quality internal bearing ensures smooth and reliable rotation, while the textile-friendly clip in points are perfect for carabiners or textile elements. The Focus includes a two way locking spindle shackle on one end which allows connection to fixed loops such as wire strops, rigging plates, and harness bridges.
The Focus is a directly connectable swivel that features both swivel and shackle attachments to give you increased connection options.
Available with small or large shackles. The small D-shaped shackle of the Focus S allows for accurate configuration of connectors, while the bow-shaped design of the large shackle on the Focus L eliminates cross loading issues and allows multiple attachment points, ideal for complex rigging setups.
Features
Weight: 5.39g
Interior Diameter (Green Swivel): 16mm x 15.64mm
Interior Diameter (Smaller Shackle): 16mm x 15.64mm
Interior Diameter (Larger Shackle): 30mm x 20.24mm
MBS: 26kN
Working Load Limit (WLL): 3kN
Textile-friendly
CNC'd from aluminium
User maintainable grease port for bearing longevity
Double locking high tensile stainless steel axles for durability
Roller thrust bearings for smooth efficiency
Shackle uses 4mm and 2mm Allen keys to ensure secure locking