5 Things to Consider When Buying a Tree
By Eddie Chew | November 18, 2020 I 5:26 pm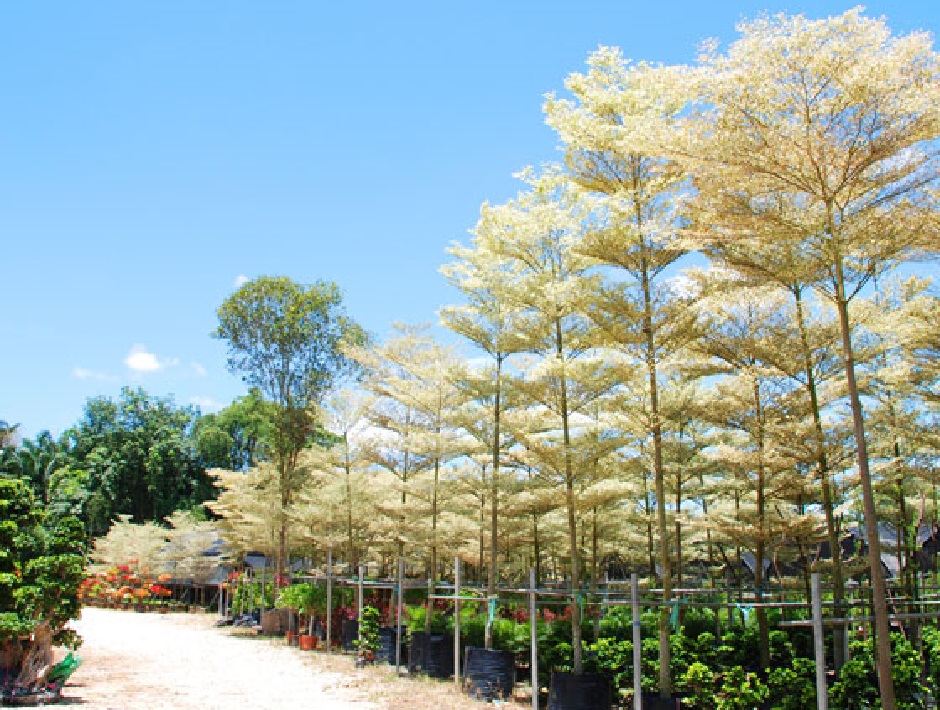 Source: Tan Kok Leyong Nursery Sdn. Bhd.
I was recently surprised by a friend asking for advice on buying a tree. It was literally the first time anyone had asked me for tree shopping advice. My first thought was, I should tell them to hire us. Followed shortly by, So this is what selling insurance to your friends feels like.
Nevertheless, I gave them a few words of advice for free, and left them to their own devices. I would like to share those few words here.
Without further ado, here are 5 things to look for when buying a tree.
1. Planting location
Take a look at where the new tree will be planted. Does it have sufficient space?
Moving or removing a tree is a laborious process, planting the right tree in the right spot will save everyone tons of trouble in the future.
Source: The Straits Times
Literally tons of trouble
Here in Singapore, space issues are usually buildings or other trees near the planting location, obstructing a new tree as it grows.
Here is what happens if a tree with a large crown is planted near buildings.
Source: CSK Landscape Services (S.) Pte Ltd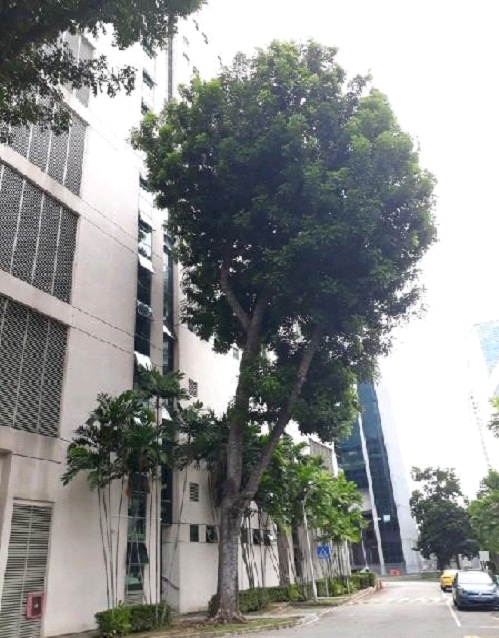 Note the asymmetric form, even after pruning
The lack of space and constant shade on one side caused the tree to develop an asymmetric form, requiring more frequent maintenance. And here is what happens if a tree with a narrower crown is planted next to buildings.
Source: Google Street View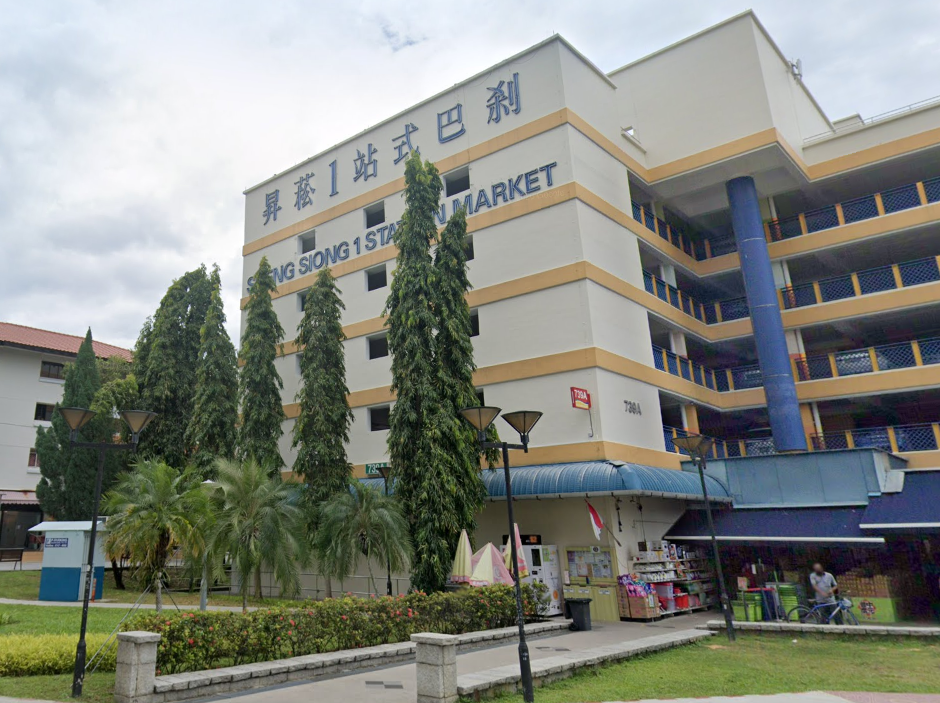 Almost no maintenance needed
It just makes more sense. If a shade tree is desired, plant it a little further away from nearby trees or buildings.
2. Soil conditions
Fact. Singapore's soil is mostly terrible for plant life. A century and more of urban development, all the way back to colonial times, has removed what little topsoil we had, leaving the ground below compacted into a solid mass. Great for preventing roads and buildings from sinking into the ground, but terrible for tree roots.
The good news is that NParks has something called an Approved Soil Mix, or ASM. It is used in new landscaping work, and will hopefully regenerate Singapore's soil in the long run. Most landscape companies that do tree planting will use ASM. However, this is something DIY tree owners should bear in mind.
Source: Kiat Lee Landscape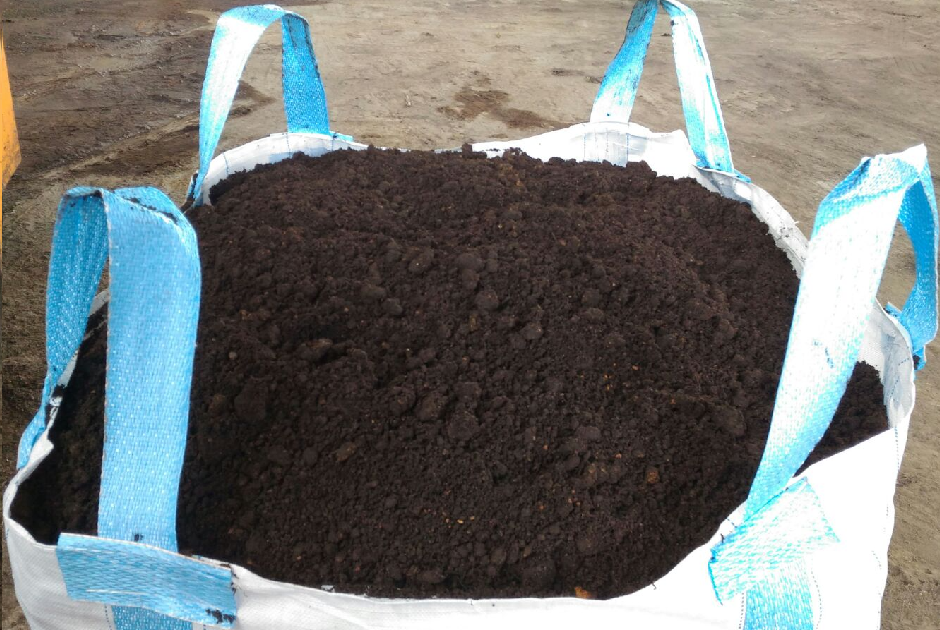 I've got a bag of dirt
The tree owner should also make sure the planting location drains properly, and water does not form stagnant ponds. Besides having the National Environment Agency breathe down your neck about mosquito breeding, poorly drained areas will suffocate a tree's roots.
Source: CSK Landscape Services (S) Pte Ltd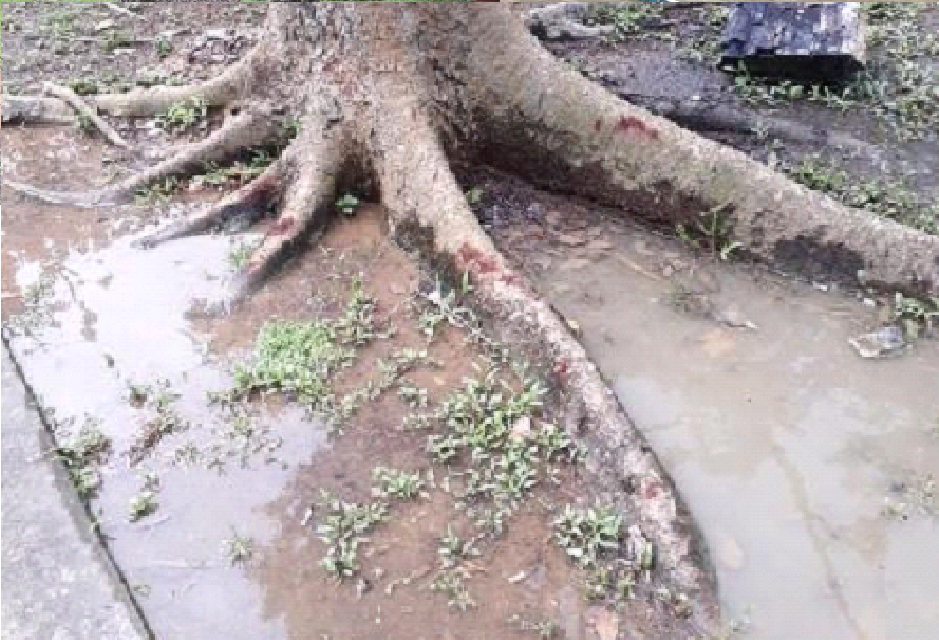 *Gasp, choke* save the roots!
3. Girdling roots
Take a look at the tree that is about to be bought. Are the roots growing outwards, or circling around the trunk? Those circling, or girdling roots, are often the result of a young tree that has been left too long in its container.
Source: Extension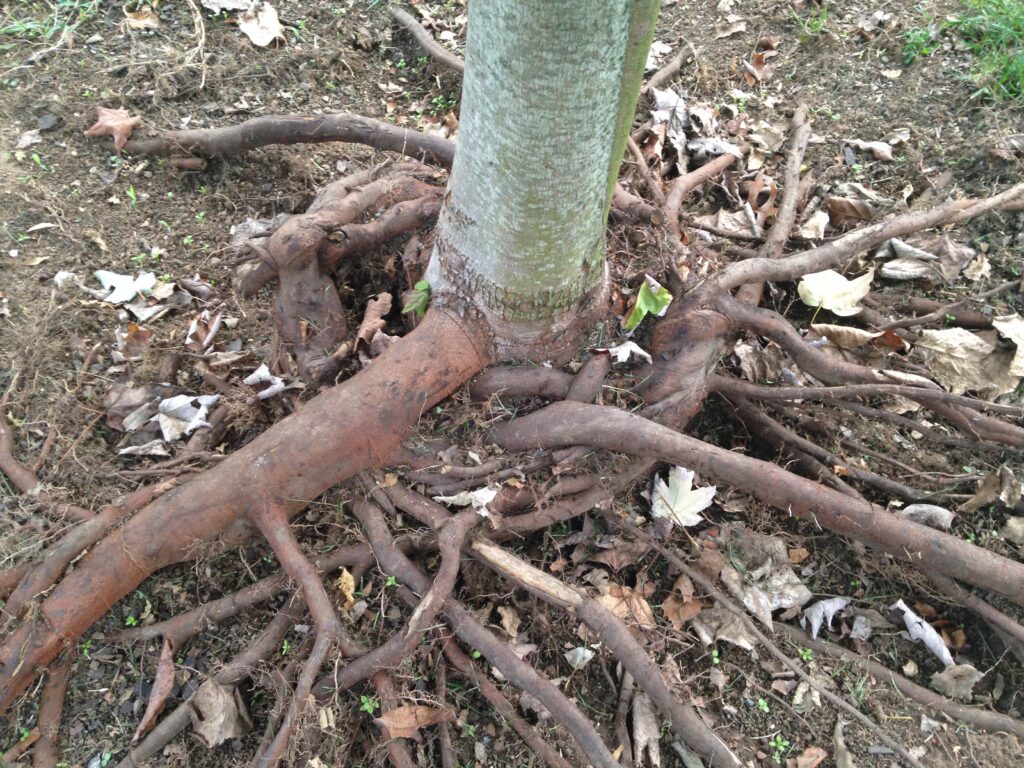 Those roots growing around the stem will get fat and strangle the tree
They will eventually strangle the tree by pressing against the trunk. If the girdling roots are not too serious, prune them before planting. Otherwise, reject the tree and pick another one.
4. Visible trunk flare
The trunk flare is the part of the tree where the trunk meets the roots. It is part of the trunk and should be kept exposed to open air. Burying it in dark and damp conditions, like those faced by a tree's roots, will encourage decay and harm the tree.
Source: CSK Landscape Services (S) Pte Ltd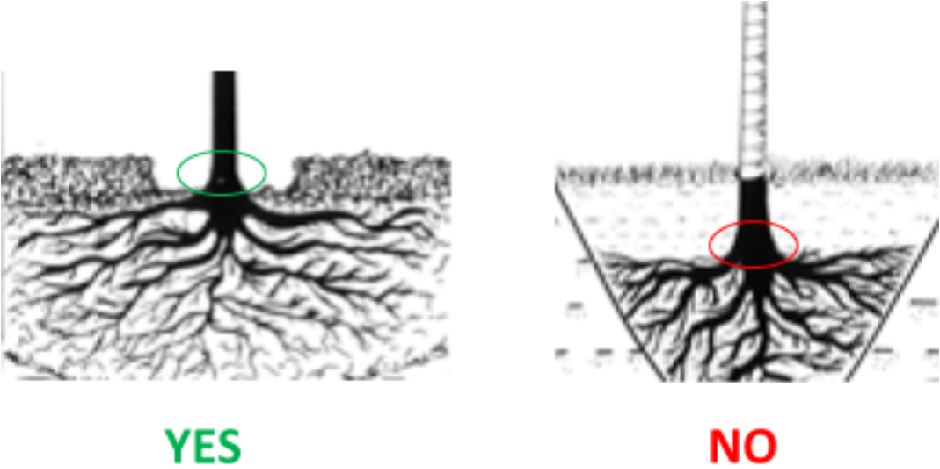 Keep this part of the tree above ground
A young tree with a buried trunk flare does not have to be rejected though. Expose the trunk flare by digging away the soil around it and check that it is healthy. Keep it exposed and do not plant the tree too deep.
Source: Cape Cod Tree Service
Exposing a young tree's trunk flare, how scandalous
5. Vigour and branch structure
This probably does not need to be said, but pick a tree with healthy looking leaves. Structural pruning is also best done when a tree is young, fixing problems early will avoid much more costly problems in the long run.
What kind of problems will poor branch structure cause? Co-dominant branches may form weak unions that tear apart, rubbing branches may cause cavities, multiple leaders may compete with each other and limit future pruning options.
Source: Tree Dictionary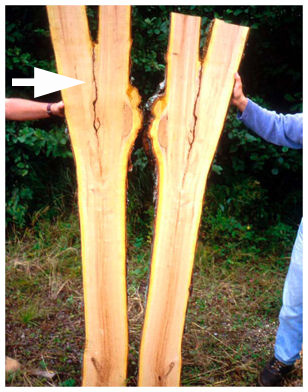 Branches of equal size, co-dominant branches, note the internal crack between them
Tree branches do not stop to consider their overall structure, they grow towards sunlight. It is better to fix potential problems with a pair of secateurs while the tree is young, rather than with a chainsaw and lorry when it is older.
That's it, those are the tree shopping tips I can think of at the moment. If you need more help with picking and planting trees, we can be contacted at admin@csklandscape.com.
Author bio
Eddie is an unapologetic tree hugger who writes in his free time. He lives and avoids work in Singapore, and owns precisely zero cats. He can be contacted at chewguanyu@gmail.com.