Being a Responsible Tree Owner
June 6, 2019 I 4:50 pm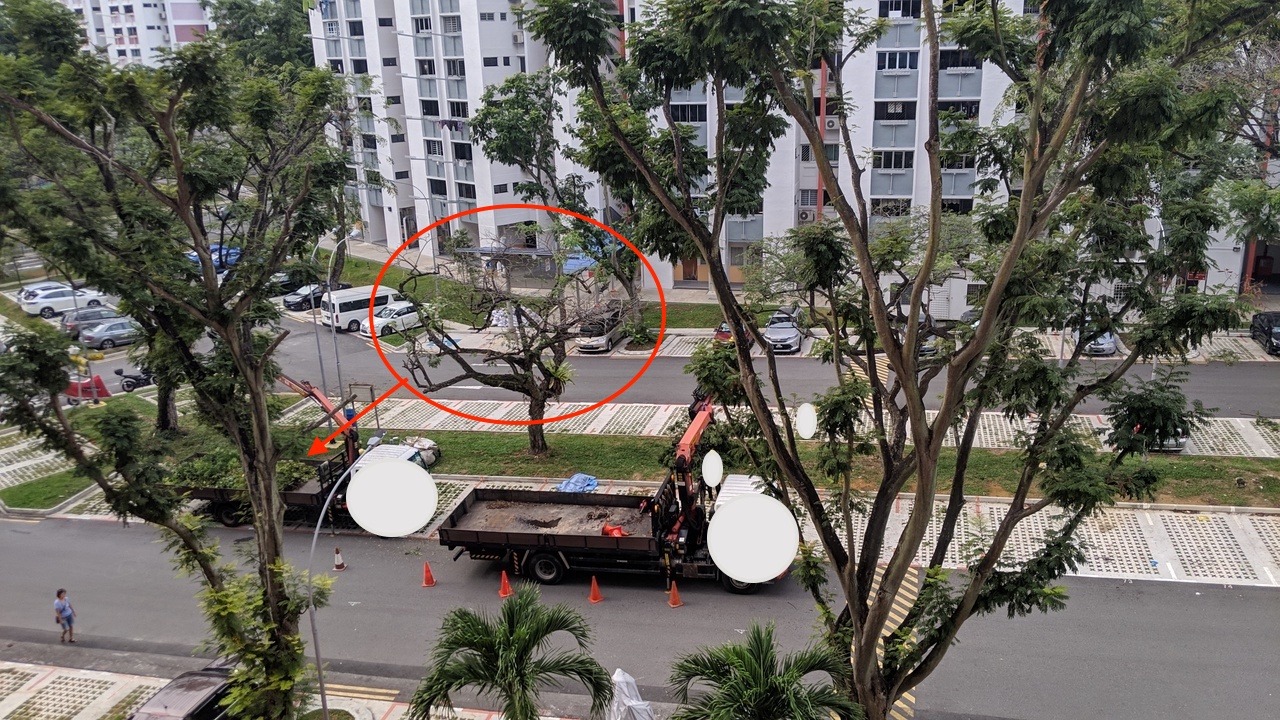 Removing all live foliage is NOT a good idea. Note the leaves on the lorry and not on the tree.
You may have noticed that areas with poorly maintained trees get hotter.
This is no coincidence, a recent study published in the Proceedings of the National Academy of Sciences (PNAS) reports that tree cover can affect temperatures by up to 5.7°C (Ziter, 2019). It is the difference between being in the tropical heat at 30°C and in an air-conditioned room at 24 to 25°C.
The urban heat island effect is the result of concrete, asphalt and other impervious man-made surfaces interacting with sunlight, thereby raising local temperatures.
Areas with more than 40% tree canopy cover disrupt this process and lower temperatures (Ziter, 2019).
Poor tree maintenance lowers tree canopy coverage, raises temperatures.
What often happens is that tree owners disown liability and foist responsibility unto landscape contractors with fine print in poorly-worded contracts, assuming the hired contractors know what is best for their trees.
Do not assume landscape contractors know what is best for your trees.
Landscape contractors vary in tree maintenance knowledge breadth and depth. Anyone can start hacking away at a tree with a chainsaw, years of experience is not a good indication of tree maintenance knowledge. Contractors want repeat customers, they will do what they are told even if the tree owner suggests something wrong. Incompetent contractors will straight up offer solutions that harm trees.
Tree owners must have some basic knowledge so that they do not give their contractors incorrect instructions or accept their contractor's offered solution at face value.
At the bare minimum, visit one of the trees with the contractor and ascertain where they will cut. Agree on how much foliage is to be removed before work (anything more than 30% is usually too much).
Under no circumstances should a contractor be allowed to top/head/hat-rack/pollard a tree in Singapore, harming trees by leaving behind ugly bare stubs.
When faced with evidence that the hired landscape contractors are damaging their property, irresponsible tree owners shy away from further corrective action on their part as long as their proverbial behinds are covered by their maintenance contracts.
If you, or someone you know, are in-charge of trees in or near public spaces, we would like to take the opportunity to beseech you to take responsibility for the plants in your care. Educate yourselves on proper tree maintenance. Do not assume landscape contractors know what is best for your trees. And definitely do not use maintenance contracts as a way to shift responsibility to the contractor.
If you're a member of the public and see disfigured trees near your homes, do not stay silent. The trees may have been contributing to a cool and pleasant environment for decades. A spike in your electricity bill from increased fan and air-conditioning use can be an indirect result of tree neglect.
References
Ziter, C. D., Pendersen, E. J., Kucharik, C. J., Turner, M. G. (2019). Scale-dependent interactions between canopy cover and impervious surfaces reduce daytime urban heat during summer. Proceedings of the National Academy of Sciences of the United States of America, 116(15), 7575-7580.